Bonehead Birmingham
kitsoladmin
One of Birmingham's finest purveyors of Chicken and Liquor approached us to do their big refit at the end of lockdown.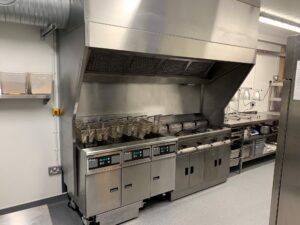 We did their fancy new canopy with an airstream curtain across the front to capture the grease and smells. We also did their fancy new Pitco fry suite to give them chicken goodness perfection every time.
We supplied them with a beautiful reconditioned Winterhalter hood machine at a fraction of the cost of a new one.  We replaced the wash pump with a genuine Winterhalter part and, touch wood, the machine has been working perfectly for nearly a year.
Plus, we supplied them with an undercounter Williams freezer, also second hand, also fully working.  Not wanting to blow our own trumpet too much we can safely say we saved them an absolute fortune on this.
The best bit (apart from bringing the project in way under budget by using reconditioned equipment where available) was the tight galley kitchen design with a 3 metre x 2-tier heated pass at the end to handle their eat-in and online order collections.  Again, fitting everything into a small space was the difficult bit but we made it work.
If you can handle the heat go in and try the hothead burger and Nashville fries.  You have been warned!