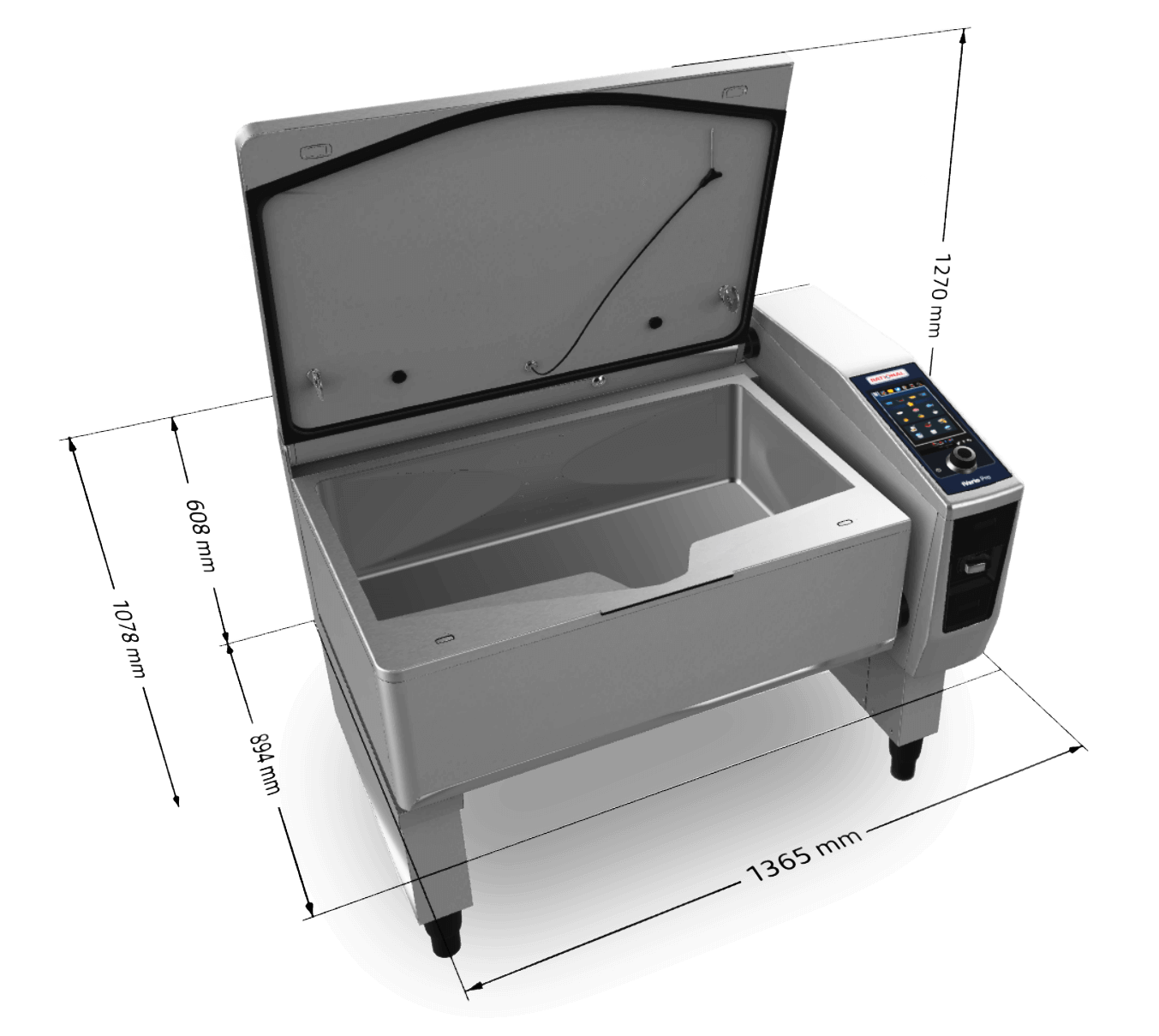 iVario Pro XL (150L)
£16,059.00 ex VAT
£19,270.80 inc VAT
Not just a Bratt Pan, Rational have come with a solution for saving space in your professional commercial kitchen by combining a boiler, fryer and deep fryer in one easy-to-use and efficient machine.  It also comes with optional pressure cooker.  When you have many meals to produce at the same time, the iVario Pro is on your side.  And in larger quantites than you would expect.
Description
Additional information
Contact Us for custom options
Spec Sheet Download
Description
In fact the iVario is not just a Bratt Pan, but a Multifunctional Cooking System.  Not only can it do the work of a bratt pan, it can also be your boiler, pressure cooker and fryer, all combined into one.  Rational explains:
The iVarioPro is designed for larger quantities, for business and industry catering.  Up to 4 times faster than conventional kitchen appliances and using up to 40% less energy. Temperature management in the iVario Pro is precise, intelligent and efficient. Nothing burns and nothing boils over.  Designed for short heating up times, low power consumption and minimal cleaning, the ceramic heating elements under the scratch-resistant pan base heat evenly right into the smallest corner. It also keeps reserves, particularly useful when adding liquid so that there are no significant temperature fluctuations.  The iVario Pro is a Game Changer.
Just some examples of what it can do for you: 100 servings of Fried Rice in 20 mins / 1,200 servings of Bolognese sauce in 90 minutes / 400 servings of Vegetable Soup in 35 minutes / 12Kgs of Battered Vegetables in 19 minutes / 15 Kgs of Penne Pasta in 22 minutes / 70Kgs of Braised Meat in 120 minutes / 18 Kgs of Broccoli in 23 minutes.
The iVario Pro also comes with optional Pressure Cooking:
Features:
Touch screen
150 litres effective volume
Automatic raising and lowering mechanism
Easy to empty
100-500 meals per day
60 dm2 cooking surface
Core probes
Cold pan edge
Effective energy management
Desired result without monitoring
Pressure cooking (optional)
Hand shower
Substructure
Division of pan base into four zones
Intelligent control panel lets you know to turn, add liquid or take the food out
Specifications:
External Dimensions (mm):  1365(w) x 894(d) x 1078(h)
Pan Dimensions (mm):   1026(w) x 570(d) x 280(h)
Capacity (L):  150
Maximum cold oil (L): 45
Temperature Range:    30°C (Boiling) / 30-250°C (Pan Frying) / 30-180°C (Deep-Frying)
Power:  41 kW / 3-Phase / 63 amps (Standard) or 34kW / 3-Phase / 50 amps (Balanced Power)
Requires water connection
2 YEARS PARTS AND LABOUR WARRANTY
Additional information
| | |
| --- | --- |
| Weight | 276 kg |
| Brand | Rational |
| Fuel | Electric |
| Width | 1365mm |
| Litres | 150L |
| Operability | Electronic |
| Electrical Supply Rating | 34kW, 41kW |
| Power | 3-Phase |